Cleaning floors can be a tedious and time-consuming task, but it doesn't have to be.
The Tineco iFloor 3 is a powerful and versatile cordless wet-dry vacuum that allows you to clean and wash your floors in one easy step.
It comes packed with features that make it efficient, convenient, and easy to use.
In this guide, we will go over the Tineco iFloor 3's specs, features, and benefits to help you make an informed decision.
Tineco iFloor 3 Specs
Here is a table detailing the specifications of the Tineco iFloor 3:
| | |
| --- | --- |
| Specification | Description |
| Power | 135 watts |
| Voltage | 21.6 Volts (DC) |
| Runtime | Up to 25 minutes |
| Battery Type | Lithium-ion |
| Charge Time | 4 hours |
| Capacity | 0.6 litres |
| Weight | 9.9 lbs |
| Special Features | Cordless, LED Display Monitors Performance, One-touch and Smart self-cleaning system, Lightweight and Portable |
Let's dive into all the features that come with this amazing machine.
Vacuum & Mop
The Tineco iFloor 3 allows you to clean your floors faster and more effectively by combining vacuuming and washing into one device.
With its powerful suction, the iFloor 3 can easily pick up messy spills and pet hair on any sealed hard floor surface, including hardwood, tile, laminate, vinyl, and linoleum.
The device's roller delivers better scrubbing performance than a traditional mop, ensuring a streak-free clean with 100% coverage on the first pass.
Digital Display
The iFloor 3's digital display provides valuable information to help you monitor the status of your device.
This feature shows you the battery level, blockage indicators, power status, and more.
Definitely a fantastic add-on if you want to check the real-time working status of your vacuum, know how much battery life is left or when it's time to clean the machine.
Powerful Suction
The Tineco iFloor 3 boasts a 150W brushless digital motor.
The motor creates a powerful suction that can quickly and easily clean tough, sticky messes, saving you time and energy.
Multi-surface Cleaning
The iFloor 3 is designed to clean all types of sealed hard floor surfaces, including hardwood, laminate, linoleum, tile, vinyl, marble, and stone.
However, it's important to note that it's not suitable for use on area rugs or rough surfaces.
Long Runtime
The iFloor 3 provides up to 25 minutes of continuous cleaning power, so you can clean your floors without worrying about the battery running out of charge.
This is especially useful if you have a large home to clean.
Low Noise
The iFloor 3's brushless digital motor is designed for ultra-quiet operation.
It uses unique materials that reduce noise, so you can clean quietly without disturbing your family or pets.
Lightweight & Cordless
The iFloor 3 is cordless and lightweight, weighing only 9.9 lbs, making it easy to move around and clean in tight spaces.
No more worrying about moving cords, buckets, mops, or heavy vacuums while you clean.
The machine's swivel steering allows effortless movement around furniture and on hard floors.
Self-clean Mode
The iFloor 3 has a self-cleaning function that can help you keep the brush roller and the overall machine clean and odor-free.
You can easily activate the self-cleaning function with one click of a button, which saves you from having to play around with complicated technology!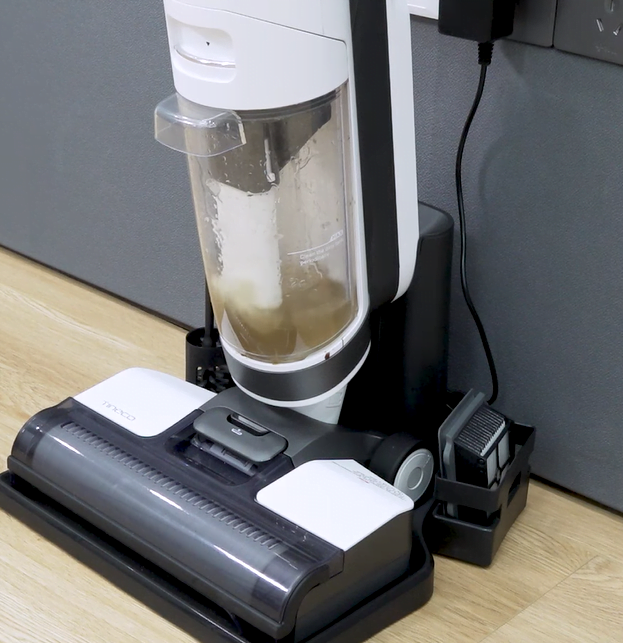 Two-Tank Design
The iFloor 3's two-tank design ensures that clean water does not get mixed up with dirty water.
This helps to prevent the spread of dirt and grime on your floors while you clean.
Multi-functional Docking Station
The iFloor 3's compact and convenient docking station is designed to help you stay organized, tidy and keep your device charged.
As mentioned above, it also features a self-cleaning function that ensures there's no mess or residue left on your floors.
The docking station keeps your device ready to use whenever you need it.
Tineco iFloor 3 Warranty
The Tineco iFloor 3 comes with a limited warranty of 2 years against original defects in material and workmanship, when used for private household purposes in accordance with the Tineco Instruction Manuals.
This warranty applies only to purchases made from authorized retailers of Tineco, and to the original owner and it is not transferable.
It also provides all labor and parts necessary to ensure your appliance is in proper operating condition during the warranty period.
However, this warranty will only be valid if the appliance is used in the country in which it was sold.
Motorized accessories and battery bought separately come with a 1-year warranty.
To make a claim under the limited warranty, you need to first have registered the product via Tineco's website. When registering, simply provide your serial number and the original receipt with the purchase date and order number on it.
To submit the actual claim, contact Tineco directly.
It's important to note that the Tineco warranty has certain limitations and does not cover all types of damages.
For example, it does not cover appliances purchased from an unauthorized dealer, careless operation or handling, misuse, abuse, lack of maintenance, or use not in accordance with the Tineco Instruction Manuals.
The warranty also does not cover normal wear and tear, damage due to use not in accordance with manufacturer's instructions, or reduction in battery discharge time due to battery age or use.
Conclusion
The Tineco iFloor 3 is an efficient and effective cleaning tool that allows you to vacuum and mop your floors at the same time.
With its powerful suction, multi-surface cleaning capabilities, and long runtime, the iFloor 3 can handle tough cleaning jobs with ease. It is also lightweight, cordless, and designed for quiet operation, making it convenient and easy to use.
Overall, if you're looking for a versatile and efficient cleaning tool that makes cleaning your floors a breeze, the Tineco iFloor 3 is definitely worth considering and it is the ideal choice for anyone who wants to save time and effort while keeping their floors clean and spotless!