Shark is one of the best selling vacuum brands in the USA.
That alone goes to show how good these machines are!
However, even these popular vacuums can malfunction at times, including having overheating issues.
But, don't worry. If your Shark vacuum is overheating, following the guide below will help you solve the problem 🙂
In this post you will learn:
Why your Shark vacuum is overheating
How to fix a Shark vacuum that overheats
And more!
Why Is My Shark Vacuum Overheating?
Your Shark vacuum can overheat if it has a full dust cup, clogged hose, or debris stuck in the brush roll. It can also happen due to dirty filters, a broken belt or electrical issues. The internal thermostat of an overheating Shark vacuum will normally turn off its motor to prevent further damage.
How Do You Fix a Shark Vacuum That Overheats?
No matter the type of fix you try, remember that safety comes first 🙂
So, before attempting to solve your Shark vacuum overheating issue, follow the 3 steps below:
Turn off your vacuum
Unplug it
Let it cool down for at least 45/60 minutes (Recommended by Shark based on vacuum type. Check your user manual for details).
Shark vacuum cleaners feature a thermostat that automatically turns off your vacuum motor if its temperature has gone beyond a dangerous temperature. This will cause your Shark vacuum to stop working.
An overheated motor can even cause your Shark vacuum to smell like burning.
Some Shark models either display a red light or an error code to indicate that the vacuum is overheating.
For example, the Shark Cordless Vertex Pro will show code E3:
While vacuums such as the Shark Rotator Lift-away will usually show a flashing red light.
Remember:
Thermal limit switches can easily break if not taken care of. Do not carry on trying to use a Shark vacuum that keeps overheating. Instead, fix it ASAP!
Once your Shark vacuum has cooled down for 45/60 minutes, follow the steps below:
1. Empty The Dust Cup
Some Shark vacuums, such as the Shark Apex Uplight Corded Lift-Away, feature a "Max Fill" marker on the dust cup.
This helps you determine when the dust cup is full and needs emptying immediately in order to avoid loss of suction or even overheating.
In addition, the dust cup in models such as the Shark Apex Uplight Corded Lift-Away have a "double lid", meaning that the bin will need to be emptied from both sides:
When your Shark vacuum dust cup is full, you will notice the following:
Loss of suction power
Debris being left behind as you vacuum
For better performance, I recommend you empty your vacuum after each use or when it gets no more than ¾ full.
2. Remove Clogs
A clogged vacuum head/brush roll or a clogged hose/wand can be another cause of your Shark vacuum overheating issue.
Always remove these clogs as soon as you spot them:
To remove clogged debris in the vacuum head:
Your Shark vacuum brush roll will easily get clogged if you regularly vacuum long hair or pet hairs.
When your Shark vacuum brush is not spinning freely, it will put a strain on the vacuum motor, causing the machine to overheat.
Shark vacuum heads can vary between models, with some of them needing a screwdriver to remove the plate that keeps the brush roll in place.
Check your user manual for instructions related to your specific machine.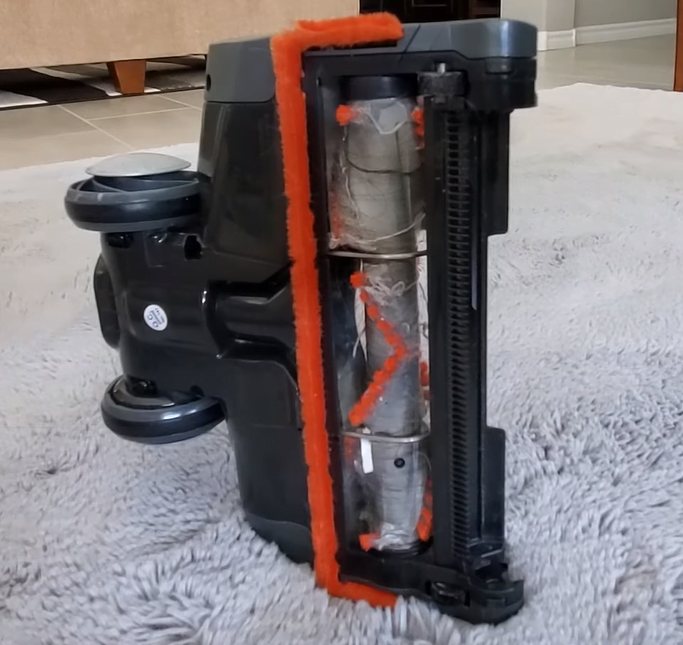 Other Shark vacuums, like the Shark ION cordless vacuum, offer easier access to the brush roll:
Detach the head from the rest of your Shark ION
Press the two buttons located at the top of the head on each side
Remove the plastic lid on top
Cut through hairs and debris wrapped around the bristled roll and pull them out with your hands
Remove the soft roll
Clean the soft roll using water only and let it air dry for 24 hours
Put the soft roll back in place
Clip the plastic lid back on top of your Shark ION head
Re-attach the head to the vacuum
Here is a video showing the exact steps above:
To remove a blockage from your Shark hose or extension wand:
Detach the hose/extension wand from your Shark vacuum
Grab a long object, such as a broom handle, to dislodge any clogs present.
I also recommend you wash the hose every couple of months or so:
Fill the sink with enough water to completely submerge the hose
Add dish soap or mild detergent
Let the water run through the hose
Use a cloth to clean the outer part of the hose
Let the hose dry completely before re-attaching it to your Shark vacuum cleaner
Here is a video from HooverLux Restorations that shows how to wash a vacuum hose:
3. Wash/Replace Filters
Shark vacuums' filtering system varies, depending on the model you own.
However, most vacuums come with 3 filters.
For example, in a Shark Ultra-Light Corded Stick Vacuum you will find:
2 pre-motor filters
1 post-motor filters
All 3 filters need to be washed with water only and air dried for 24 hours before use.
You should:
Wash pre-motor filters every month
Wash post-motor filters every 9 months
If you notice that the filters are damaged, make sure you replace them with the correct ones. Check the user manual to see which filters you need to purchase.
The Shark Navigator Zero-M also comes with 3 filters:
2 pre-motor filters
1 HEPA filter
Again, these should be rinsed with water only and let air dried for 24 hours:
Regardless of which machine you own, make sure you take filter maintenance seriously to prevent your Shark vacuum from overheating!
4. Replace The Belt
Shark vacuum belts enable the brush roller to spin and collect debris on carpets.
A broken belt can result in strain on the motor, causing your Shark vacuum overheating issue.
Generally, a belt would break due to large debris clogging the brush which would put too much resistance on the belt.
Check your Shark manual to see where your vacuum belt is located.
Inspect the belt and replace if needed, ensuring you purchase the correct belt for your machine.
5. Replace The Power Cord
A damaged power cord can also be the cause of your Shark vacuum overheating issue.
Inspect the power cord for loose wires or cracks and stop using your Shark vacuum cleaner if you see any damage.
If you or someone you know feels confident enough to replace the power cord, then go ahead and do so before you continue using your Shark vacuum.
Otherwise, I recommend you let an expert do it for you 🙂
Watch this video from Cuttothechase to learn how to replace a Shark power cord:
6. Ask a Professional To Check The Cooling Fan
A dirty or broken cooling fan will make it difficult for the excessive heat to be expelled out of your Shark vacuum.
If your machine is still under warranty contact Shark to ask them to inspect the fan.
Alternatively, contact an independent vacuum repair store.
7. Contact a Professional To Inspect The Motor
You should never attempt to replace a broken motor yourself, as it can be a safety hazard.
Contact a professional, so that they can inspect your Shark vacuum and determine what to do next.
Before taking your Shark vacuum to an independent professional, check what date you purchased your machine, as it may still be under warranty.
Shark offers a variety of warranties:
This depends on the type of product you purchase.
For example, Shark 2-in-1 Vacuum and Mop Robot vacuums come with a 3-year VIP warranty.
VIP service means that if your vacuum fails for any reason, Shark will:
Allow you to ship the vacuum to them for FREE (If you are located in one of the 48 contiguous US states)
Fix it FREE
Or replace it FREE
They will send the vacuum back to you for FREE (If you are located in one of the 48 contiguous US states)
However, Shark Vertex Upright vacuums come with a 5-year limited warranty.
Click here to search for your vacuum model and see which type of warranty it came with (Warranty may have been different at the time you purchased your machine, so check your receipt too).
You can check each warranty in detail by going to this page.
Contact Shark to see if they can fix/replace your vacuum cleaner.
Conclusion
Knowing what to do when facing a Shark vacuum overheating issue can potentially save you hundreds of dollars!
Make sure you act quickly and go through the steps mentioned above.
To recap:
Empty the dust cup
Remove clogs from the hose and brush roll
Clean or replace your filters
Inspect the belt and replace it if needed
Replace the power cord
Get a professional to clean or replace the cooling fan
Call Shark or an independent professional to inspect/replace the motor