Have you ever dreamed of a home cleaning tool that could vacuum, sweep, wash, and dry your floors simultaneously?
Dream no more, because we have found the ultimate cleaning solution that turns this dream into a reality.
The Dreametech H12 Smart Wet Dry Vacuum – an advanced, cordless hardwood floor cleaner – is currently on sale, allowing you to save an impressive $120!
You can get your discount by clicking here and applying the coupon before checkout 🙂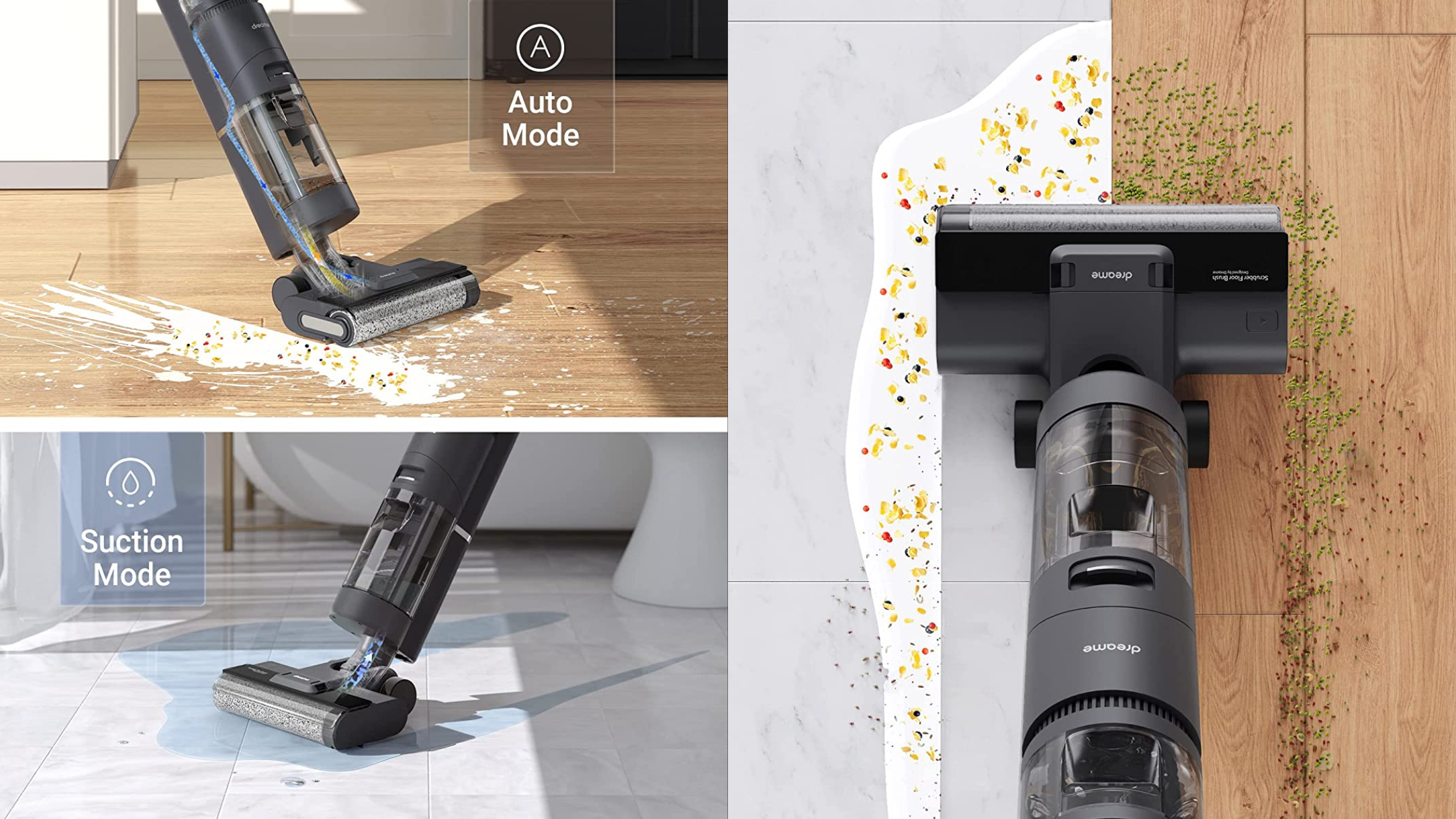 Imagine a cleaning device that's tailored to reach those hard-to-reach areas and skirt board edges.
The Dreametech H12 boasts an innovative Edge Cleaning Design, featuring a state-of-the-art rotating brush to leave every nook and cranny spotless.
Not just a vacuum, but a two-in-one cleaning hero! Thanks to its cutting-edge real-time water circulation technology, this high-tech device sweeps, vacuums, and washes your floors all at once, eradicating spills, messes, filth, and dirt from your home's hard surfaces.
Worried about running out of power midway through your cleaning spree?
Fear no more!
The Dreametech H12 is equipped with a high-capacity battery pack that powers up to 35 minutes of cleaning.
Coupled with its sizable 900mL clean water tank, you can keep cleaning without frequent stops for recharging or refilling.
After cleaning, maintaining your device should be the last of your worries.
The H12's ingenious self-cleaning feature uses an integrated brush scraper, ensuring your brushes stay clean after each use.
One push of a button and your H12 cleans itself, always ready for your next cleaning adventure.
But the magic doesn't stop there.
Experience intelligent cleaning with this device's smart mess detection, adjusting power and suction automatically based on the mess level.
The vacuum's LED screen and voice assistant keep you updated about your cleaning progress, battery level, and more.
On top of all these impressive features, the H12 has been designed with convenience in mind.
Its cordless design makes it easy to maneuver, while its compact docking station ensures effortless storage and charging.
Weighing in at just 12.56 pounds, it's light enough to move around without breaking a sweat.
So why wait?
Seize this limited-time offer and let the Dreametech H12 Smart Wet Dry Vacuum revolutionize your cleaning routine.
| Pros | Cons |
| --- | --- |
| 2-in-1 Functionality: Simultaneously vacuums, sweeps, and washes floors, saving time and effort | Weight: At 12.56 pounds, it may be considered heavy for some users |
| Edge Cleaning Design: Advanced rotating brush for cleaning hard-to-reach areas and skirting boards | Moderate Running Time: While 35 minutes is sufficient for smaller homes or quick cleans, larger homes may require multiple battery cycles |
| Large Clean Water Tank: A 900mL tank allows for prolonged cleaning sessions without frequent refills | |
| Self-cleaning: Integrated brush scraper facilitates easy post-cleaning maintenance | |
| Intelligent Cleaning: Automatically adjusts power and suction based on the mess level | |
| Cordless: Provides ease of movement and flexibility during cleaning | |
| Easy to Store: Compact docking station for neat storage and convenient charging | |
| Voice Assistant: Provides helpful information to maximize the efficiency of cleaning sessions | |